1996 VINTAGE SPIDER-MAN VELVET BLACKLIGHT POSTER Marvel #403 RARE 23 x 35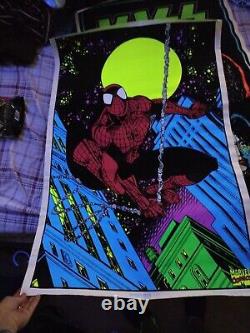 This 1996 vintage Spider-Man® velvet blacklight poster from Marvel® is a rare find, measuring 23" x 35". It features an abstract and psychedelic style that is perfect for fans of fantasy and animation. The poster is unframed, printed on paper, and is an original production from the United States. The poster showcases Spider-Man as the featured character/artist and was produced in 1996.
It is a single piece and is not personalized. The poster has no signatures, but it is an original Marvel® licensed reprint.
This poster is perfect for collectors and enthusiasts of American culture and Marvel® franchise.